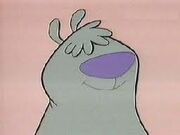 Johnathon/Big Dog
is generally too lazy to bother with anything, and most of the time seemed more aloof and unconcerned about his surroundings than actually stupid. In some episodes, he surprisingly reveals deep philosophical intelligence. A running gag about Big Dog is he would spit out a whole cob of corn he ate.
Ad blocker interference detected!
Wikia is a free-to-use site that makes money from advertising. We have a modified experience for viewers using ad blockers

Wikia is not accessible if you've made further modifications. Remove the custom ad blocker rule(s) and the page will load as expected.