Raj
is a cautious
Indian elephant
who speaks with a distinct
Indian accent
.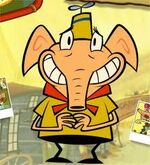 Born in
India
, Raj is one of Lazlo's bunkmates and best friends in the Jelly Bean Cabin at Camp Kidney and is seen spending most of his time with Lazlo and Clam; the three are collectively known as the "Jelly Trio."Raj has dreams of becoming a famous DJ.
Jeff Bennett
voiced Raj.
Ad blocker interference detected!
Wikia is a free-to-use site that makes money from advertising. We have a modified experience for viewers using ad blockers

Wikia is not accessible if you've made further modifications. Remove the custom ad blocker rule(s) and the page will load as expected.