The fictional character Spider-Man, a comic book superhero featured in Marvel Comics publications, has appeared in four films since his inception. The rights to a motion picture based on Spider-Man were purchased in 1985 and moved through various production companies and studios, at one point having James Cameron to direct, before being secured by Sony Pictures Entertainment.
Sony hired comic book fan Sam Raimi to direct the first three films: Spider-Man (2002), Spider-Man 2 (2004), and Spider-Man 3 (2007). Through the films, Peter Parker (Tobey Maguire) developed a relationship with his high school crush Mary Jane Watson (Kirsten Dunst), and as Spider-Man, he has battled villains including the Green Goblin (Willem Dafoe), Doctor Octopus (Alfred Molina), the Sandman (Thomas Haden Church), and Venom (Topher Grace).
Raimi's trilogy, produced on a total budget of US$597 million, grossed nearly $2.5 billion worldwide. Each film set several box office records, with all three included in the top 20 highest-grossing domestic films as well as the top 30 highest-grossing worldwide films. Critics have given the first two films positive reviews, while the third film received mainly mixed reviews. The series has been released on both Blu-ray and DVD.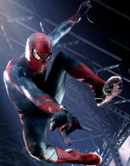 While the story told in the first three films was originally going to be continued in a fourth film, Sony announced that the franchise will instead be rebooted with new director Marc Webb and a new cast that includes Andrew Garfield as Peter Parker, Emma Stone as Gwen Stacy, and Rhys Ifans as Dr. Curt Connors. The reboot's intention is to have Peter Parker back to developing his abilities in high school. The film, titled The Amazing Spider-Man, was released in 3D and IMAX 3D in July 2012.
Ad blocker interference detected!
Wikia is a free-to-use site that makes money from advertising. We have a modified experience for viewers using ad blockers

Wikia is not accessible if you've made further modifications. Remove the custom ad blocker rule(s) and the page will load as expected.